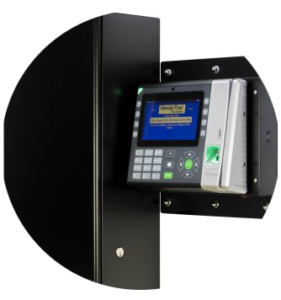 In 1995, HandyTrac CEO John Lie-Nielsen set out to secure his first key control contract with Alexander Properties in Atlanta for his start-up product, the HandyTrac Classic. Today, HandyTrac protects over 5 million units nationwide, and is the leading key management and control system in the multi-housing and commercial property industry.
After experiencing remarkable success with the HandyTrac Classic, Lie-Nielsen decided to take property security one step further with the HandyTrac Biometric; a system that enhances audit trail credibility and security while eliminating the frustration of lost or damaged employee badges. This system would quickly become the most trusted system in the country, but Lie-Nielsen still felt there was work to be done.
Introducing the HandyTrac Premium Touch. Integrating secure and reliable biometric technology with an easy-to-use touch screen, the HandyTrac Premium Touch streamlines the key control process for both staff and managers alike. With the HandyTrac Premium Touch, key control will never feel the same.
Features include:
– Biometric technology and a large display in one unit to offer the highest level of security,
reporting, and flexibility.
– Instant reports showing keys out, reasons, and other transactions completed by staff.
– Ability to review individual work orders with one touch.
– Visual codes that eliminate typing errors, while streamlining the entire process.
– Integration of Android's One Touch Building Pull.
         – Lists units for each building, allowing for quick and easy access when pulling multiple keys.
– Easy to use and doesn't require additional desktop or wall space.
– Ability to use bar code employee badges if desired.
– Built-in WiFi connection available.
With over 5 million keys secured, you can trust HandyTrac for your key control needs. For more information, visit www.handytrac.com or call 800-665-9994.