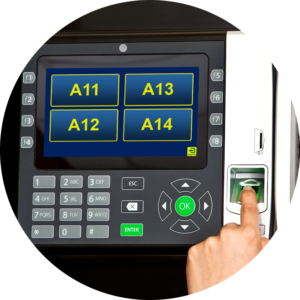 7 Reasons to Choose a Biometric Key Control System
Security is estimated to be a multi-billion dollar market in the next six years alone, and nothing is more important. Passwords alone are no longer sufficient to maintain security and keep sensitive data out of the hands of hackers or other unauthorized individuals.
Biometrics, or the use of bodily features to access secure systems, is the next-generation solution to securing information and locations. One step up from passwords, and two steps up from traditional keyed locks, biometrics provide a practical, convenient, layered security solution that is no match for even the most dedicated hacker.
For property managers looking to protect their tenants with the most advanced security measures, HandyTrac is the number one choice for biometric key control systems. As a member of the National Apartment Association, HandyTrac provides biometric key control systems to apartment buildings, condos, and similar housing facilities all across the United States.
HandyTrac's patented system provides a myriad of benefits for incorporating biometrics into the key systems operating in most apartments and condos.
1. Easy to use and saves space
HandyTrac's system is easy to use and doesn't require more space than is already taken up by the existing key board or cabinet.
2. Easily integrates with employee badges
The system accommodates bar coded employee badges and implements multi-step authentication procedures to achieve the maximum level of security.
3. Instant reporting
The HandyTrac system delivers instant reporting that the head of maintenance, or another qualified individual, can use to see which keys are out. He or she can also see the reason the key has been pulled, or other activity. This feature also makes it possible to review all the work orders in a certain set (i.e. for a given repair person, for a specific tenant, or during a specified interval).
4. Effortless maintenance and dependable support
The system allows maintenance and office support to access reports which are saved offsite, in the cloud. This helps maintain an electronic "trail" vis à vis the documented history of repair, for example. This paper trail could be of enormous benefit to property managers attempting to authenticate a repair history if called into court.
5. You can review key data across multiple properties
HandyTrac's hierarchical information system also allows manager review across multiple properties with a single log-in.
6. WiFi compatible
HandyTrac also features a built-in Wi-Fi connection; visible coding that prevents typing errors; android's One Touch Building Pull on board for simplified multiple-key pulling; available in single or double cabinet models; continuous warranty; technical support via toll-free 800 numbers.
7. Affordable
HandyTrac offers three affordable key management options for any size property, focusing on efficiency, usability, and cost control.
Your residents need protecting, and HandyTrac – devised by property management professionals with 30-plus years of experience – has the right systems to accomplish that.
Contact us today to learn how a biometric key control system can strengthen the security of your property.